Fully automatic horizontal plugin insertion machine
Component Type: Diameter 0.4 -0.8mm tinned copper wire span; lead wire span 5mm -30mm
One plug-in device can replace 6-8 personnel
Features
Four plug-in angles: 0°, 90°, 180°, and 270′: 2. Independent jumper supply module;
Feasibility of in-line production;
Conjoined design, no need for sorting machine to cooperate: 5. Photoelectric protection module to prevent personnel from being injured:
Equipment application field
Household appliances, electronic products, LED lighting industry, etc.
Energy-saving lamps, home appliances, power supplies, industrial control, and LEDs are the main application areas of automatic plug-in machines. The main components are key switches, LED lights, capacitors, transistors, resistor fuses, triodes, resistors, connectors, coils, and potentials. Devices, fuse holders, etc.
Wave soldering and reflow soldering are widely used in advanced manufacturing industries such as automotive electronics, household appliances, components, LCDs, and circuit boards, and are used in the subsequent processing procedures of plug-in machines.
Advantages of fully automatic plug-in machine
Save plug-in manpower, directly reduce labor costs, and reduce labor shortages and problems caused by the implementation of new labor laws.
Improved production efficiency, machine production speed is much faster than manual labor, and the speed is stable, easy to grasp the production progress
The overall quality of the product is improved, errors such as wrong insertion and missing insertion are extremely low, the stability is not affected by human beings, and the quality is consistent.
High efficiency and good quality — "Enterprise competitiveness is improved.
Improve the corporate image, be more convincing, and win more orders from customers
The short-leg operation of the machine plug-in, automatic cutting, and bending of the feet, reduces the tin material taken away by the pins during soldering, saves the amount of tin, and the quality of the coal points is good, and greatly reduces the workload of rework and repair welding, and improves the product quality. .
With mounted components, save pre-processing procedures.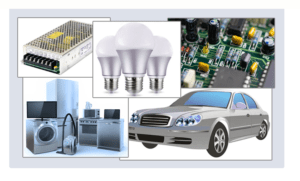 Classic case display
Meet different electronic component plug-in requirements