GSMT-510 3D AOI with 12Mpixel coexpress high-speed camera, high-resolution telecentric industrial lens, 4-way moire digital projection head, combined with multi-frequency fringe light to realize 3D image information of components and welding, with a minimum of 8um resolution (standard setting 15umm), it can more accurately and stably detect defects such as IC pin false soldering, part floating height, tin climbing height and so on
Structure grating system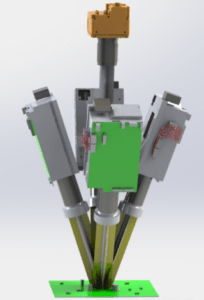 The N-step phase-shifting algorithm is based on the white light moire fringe technique, providing high inspection accuracy; There are multiple grating options for dealing with light and shadow.
High-precision control platform
The motion platform adopts the Linear motor, which is high-speed, and stable, with no vibration and noise. With the high precision grating closed-loop feedback system, the movement precision can reach 1um.
High-speed Industry camera
Import 12Mp High frame rate industrial camera and Telecentric lens to achieve high-speed photography; Self-owned intellectual property RGBW 4-channel light can get 2D & 3D true color images that look realistic; The GPU parallel processing technique can greatly improve the speed of calculation and detection.
CATEGORY
ITEM
SPECIFICATION
Recognition System
Inspection
The vector image algorithms include logic operation, a distance of luminance boundary, chip tracing, OCR/OCV, luminance/color template matching, color distance, color extraction(RGB & HSV), value-range of luminance, offset of luminance, the minimum variation span of luminance, etc… More than 30 kinds of the most advanced algorithms.
Camera
Digital high-speed CCD 12M Pixel camera
Resolution & FOV
15um FOV 60*45mm     □

Or 10um FOV 40*30mm   □

Or 8um FOV 32*24mm     £

Lens
Telecentric Lens
Light
Ring LED light
Projection System
4 directional projection gratings
3D height measurement range
20mm
Per-image Time
<0.5s
Paste Printing Defects
Solder paste printing: Missing, Shift, Insufficient solder; Excessive solder Break, Stain,height,area,volume
Component Defects
Components defects: Missing, Shift skewed, Tombstone,Billboard, Overturned, Reversed polarity, Wrong, Damaged,Coplanarity,Height defect,Size
Solder Defects
Solder joint defects: Insufficient solder, Excessive solder, Solder bridge, Copper stain
Wave Soldering Inspect
Overflow,Insufficient,Short,Excess solder, Solder void
Minimum component
01005& 0.3mm pitch(15um)
Mechanical System
PCB Conveyor
Left to right or right to left (One key shift)
PCB fixing: bottom-up, PCB warp correction.
Automatic PCB loading and unloading, Adjustable clearance, Conforming SMEMA standard.
Conveyor clearance: 900±20mm
PCB Size
50×50mm-510×460mm
PCB Thickness
0.5mm – 5.0mm
PCB Warp Tolerance
<2mm(Fixture-assisted deformation correction)
Component Clearance
TOP≤50mm, BOT≤50mm(customized for special requirements)
Driver
AC servo,camera moves in the directions of X/Y.
Orientation
<10um
Moving Speed
Standard:500mm/s,Max:800mm/s
Soft System
Operation System
Microsoft Windows 10 X64
Characteristic
Basis on Vector analysis algorithm, integrated variety of software algorithms of Color Extraction、 Luminance Extraction 、Color Distance,for SMT components and the position of the solder joints , appearance , accurate positioning and analysis accurately eliminate all kinds of bad points
Operation
Graphic programming, Chinese, English
Programming
CAD、handwork programming, Support offline programming(Optional)
Computer
CPU INTEL I9, RAM 128GB,HDD:1TB SSD+2TB HDD
Display
21 inch TFT
Network
Multi machine control
The operator can control multi same machines  in the control terminal
Network
NG adaptable, check and correct PCBA defects at repair station
Communication port
SMEMA, RS232,RJ45
Other
Air Supply
0.5MPA.80cm³/min
Machine Dimensions
1390×1400×1600mm
Weight
~1100kg
Working Environment
Temperature10-40℃, humidity 30-80% RH