JUKI Pick and Place Machine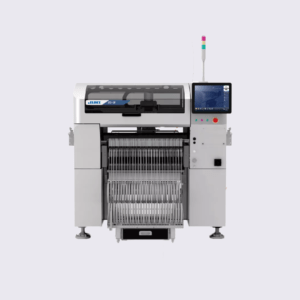 Next-Generation Smart Fast Modular Mounter
The consistent further development of the tried-and-tested technologies from the RS-1 opens up new, outstanding possibilities:
Even faster assembly of smallest chips (0201 metrics) up to large components of 50 x 150 mm or 74 mm edge length for square components. The base frame of the RS-1R has been completely redesigned for this purpose. The unique Takumi head covers even more different component heights and thus achieves a decisive speed advantage. The 360 ° visual component recognition allows the secure detection of user-specific polarity marks. Thanks to the RFID integration in the nozzles, these can be traced back completely together with the components and boards. The machine combines the features of a chip shooter with a mounter for large components. The purchase of each special machine type for it eliminates as well as a change of the placement head
New RF Style Feeder Design

The new RF-style feeders are 17% smaller and 50% lighter.

Supports a Wide Component Range

Build any board from 0402 metrics (01005) up to 74mm square and 50mmx150mm rectangular parts for max flexibility.

Highly Adaptable Design

Dynamically optimizes line balance for the highest throughput

New Head Design

The new head design automatically adjusts the centering height based on the components placed.

Advanced Laser Centering Technology

JUKI's Advanced Laser Centering Technology is fast, accurate, and reliable for a wide range of parts.
Model
JUKI RS-1R Pick and Place Machine
Conveyor Specification
standard
150mm conveyor extensions,
upstream and downstream
250mm conveyor extensions,
upstream and downstream
Boar Size
minimum
50*50mm
1 buffer
650*370mm (single clamping)
950*370mm (double clamping)
 1,100*370mm (double clamping)
 1,200*370mm (double clamping)
3 buffers
360×370mm
 500*370mm
 600*370mm
Component Height
25mm
Component Size
0201*1 ~74mm /150*50mm
Placement Speed
Optimum
47,000CPH
IPC9850
31,000CPH
Placement Accuracy
±35μm(Cpk≥1)
Feeder Inputs
max.112*2
*1 For metric 0201 compliance please contact us.
*2 Using RF(RF08AS) feeders